One country that seems to appear on everyone's bucket list is Iceland. There are so many wonderful things to do in Iceland that you will never get bored. Between exploring ice caves, relaxing in a geothermal pool, and walking between tectonic plates, you will find that Iceland is a place of numerous outdoor activities.
Wondering how to best spend your time in Iceland? We have a list of our favorite 10 things to do while you are in this place known for unique outdoor adventures.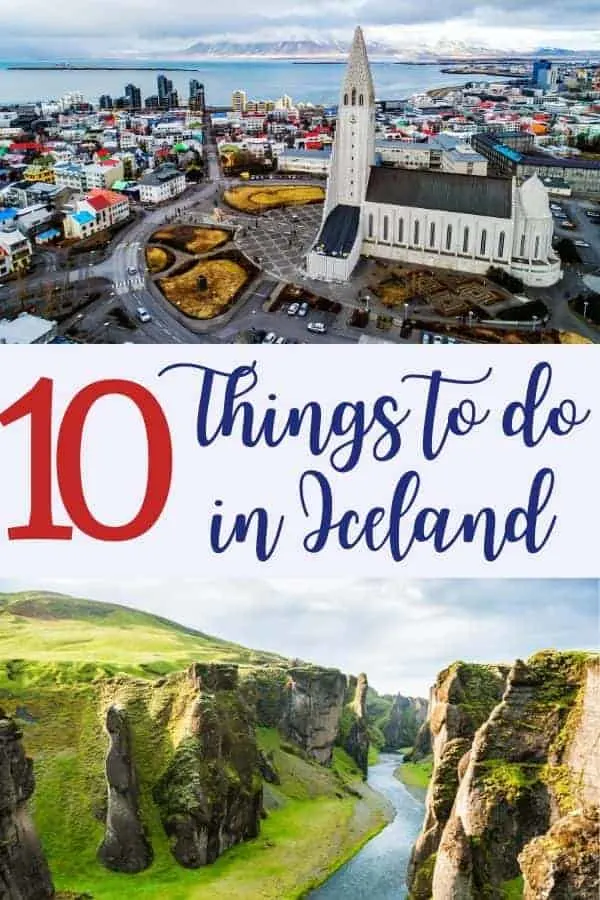 Top 10 Things to do in Iceland
1. Enjoy a free walking tour of Reykjavik
The best way to see Reykjavík is with an English-speaking tour guide.
This tour will teach you about the history of Iceland, Reykjavík as a town, along with cultural curiosities & traditions.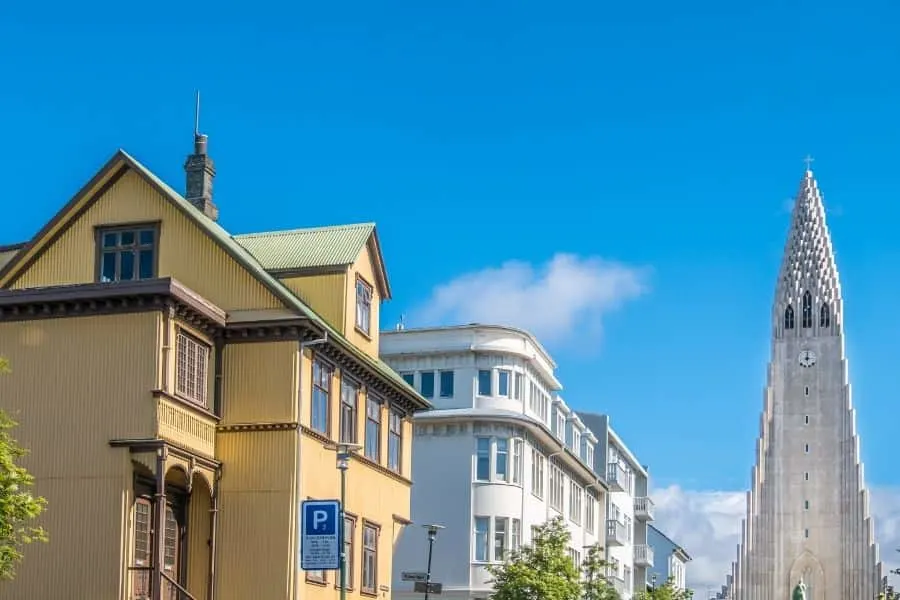 You will find that the guides have a wealth of information about what to see and do in Reykjavik along with great Icelandic landmarks.
They will keep things interesting and you are free to ask as many questions as you would like.
The meeting point is the main square Austurvöllur, in front of the House of Parliament (Alþingi) next to a statue of the national hero, Jón Sigurðsson.
The walk itself is twice a day (10:30am & 2pm) every day. The walk is a little over a mile and the tour lasts 2 hours.
Reserve Your Spot for the Tour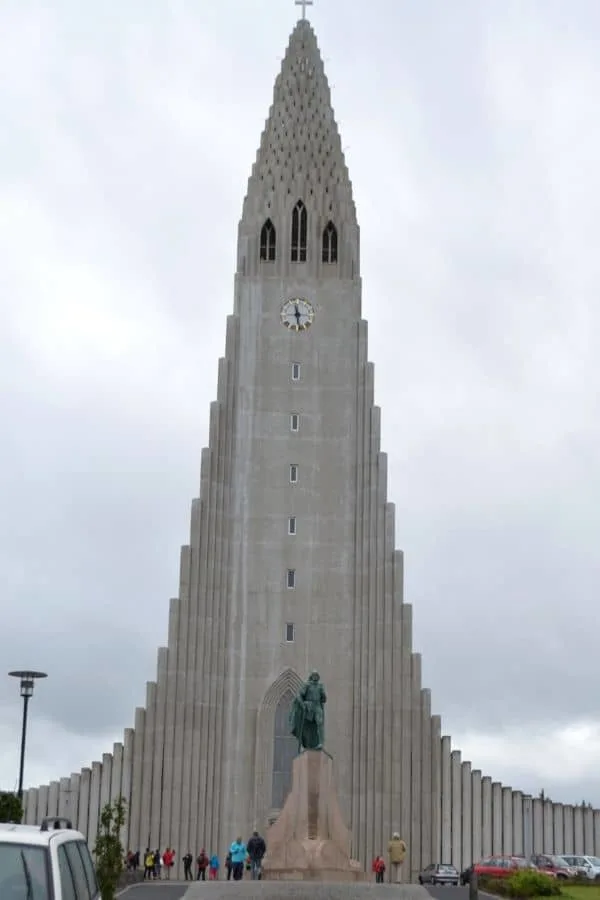 2. Climb the Tower at Hallgrimskirkja
Reykjavík's main landmark is Hallgrímskirkja, a Lutheran church.
You will have no problem finding it as it is the tallest building in all of the town and visible from numerous points in the city.
It was designed by Guðjón Samúelsson who drew upon the Icelandic environment that surrounded him, the vision of lava as it cools into basalt rock, and took nearly 40 years to build.
The church itself is just a typical Lutheran church, but the tower allows you to see Reykjavik from a vantage point you won't find anywhere else!
Hallgrimskirkja is open every day 9am-9pm from May to September, and 9am-5pm from October to April.
While the church is free to visit, you do have to pay to access the tower which is 240 feet high. Adults pay an entrance fee of 900 ISK and Kids 7-14 pay 100 ISK.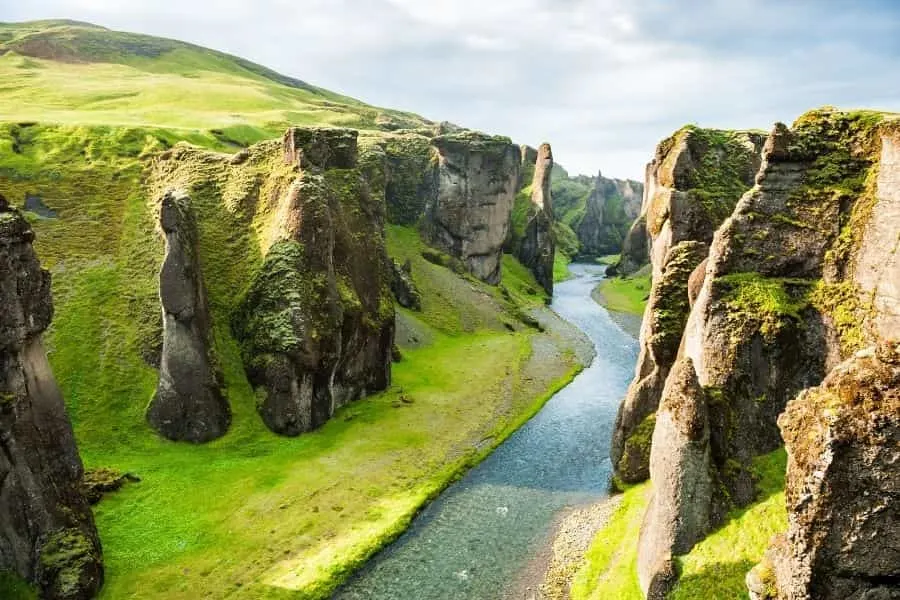 3. Walk between Tectonic Plates
A trip to Þingvellir National Park has many wonderful things to see, but one of the major natural wonders is the rift valley that was caused by the separation of two tectonic plates during the time of the continental drift.
This is one of the few places in the world where you can actually walk between the two plates!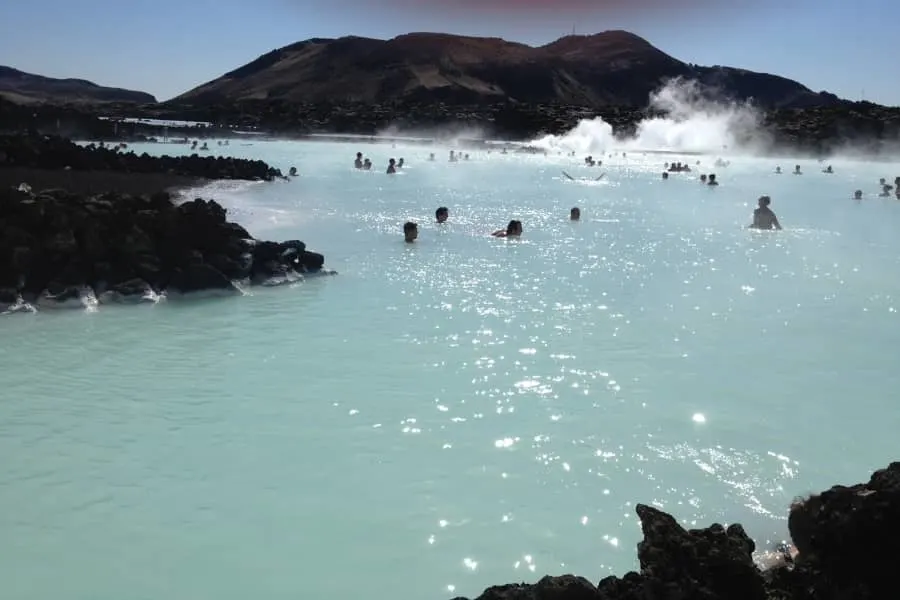 4. Swim in a Geothermal Pool
One of my favorite things to do in Iceland is to visit one of the Geothermal pools.
Iceland sits on a volcanic geothermal field which means that you will get to enjoy naturally heated pools.
These pools are full of minerals that have natural healing properties.
While the Blue Lagoon is the most popular Geothermal pool in Iceland, it is also the most expensive and crowded.
We prefer going to The Secret Lagoon which is more remote and authentic.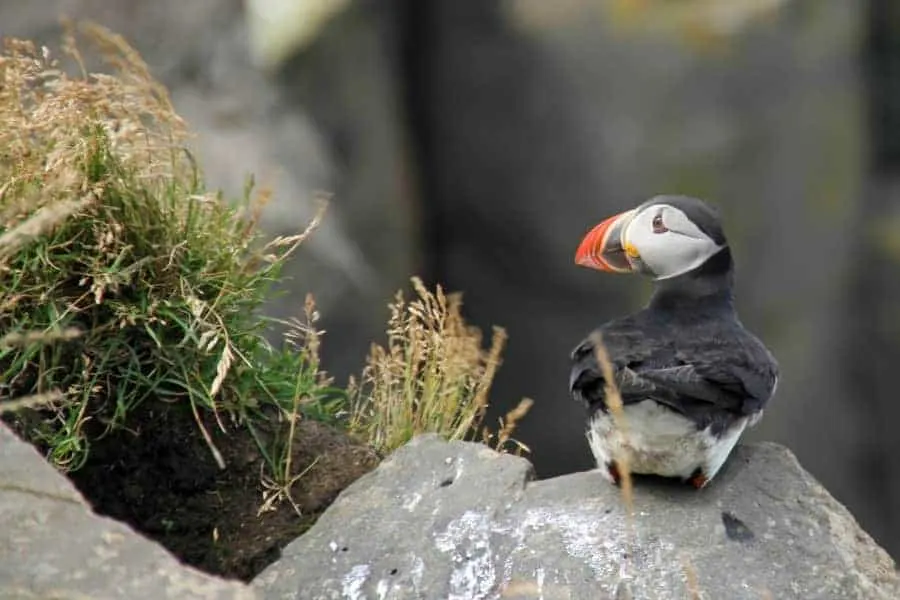 5. Admire the Puffins
It's easy to see why the world has fallen in love with Puffins.
These cute little birds have the coloring of a penguin with a clown-like face and waddle when they walk.
Believe it or not, there are more puffins than people in Iceland. In fact, most of the world's puffins are found in Iceland!
Nearly sixty percent of the Puffins breed in Iceland during the summer months.
Where is the best place to see puffins?
While you would think you would see them everywhere, you're more likely to find a stuffed puffin than a real one unless you venture to the small islands off the coast of Iceland.
During the summer months, puffins breed which means that June-August is the best time to see them.
There are several places to see puffins in Iceland but the two we recommend are on the islands of Akurey and Lundey, which is less than a mile from Reykjavik by boat, and the Westman Islands, located just eight miles off the South Coast.
If you are short on time, consider this Puffin Express Cruise from Reykjavik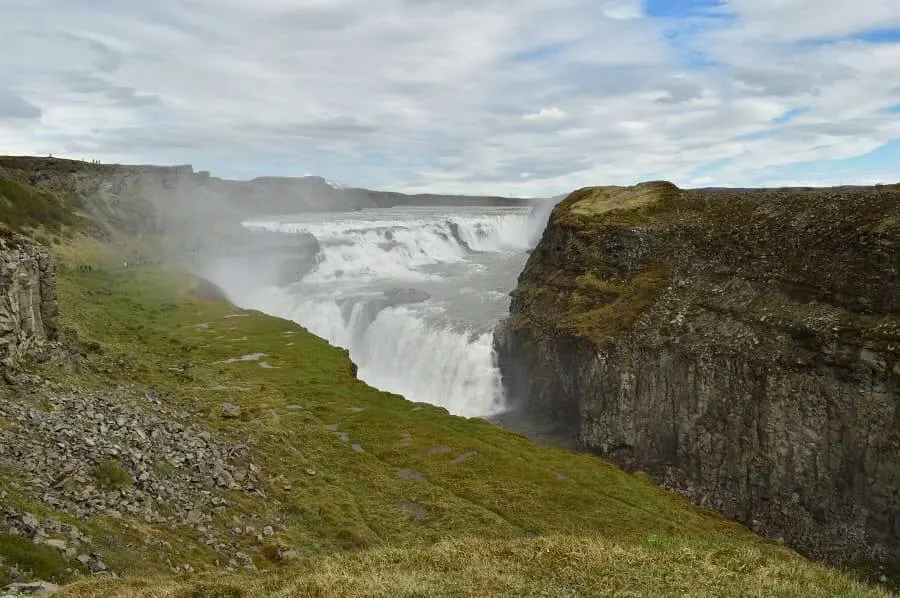 6. View Gullfoss Waterfall
If you spend time on the Golden Circle, you will soon learn that there are many waterfalls in Iceland, but none of them compare to Gullfoss.
The Hvítá river is fed by Iceland´s second biggest glacier, the Langjökull Gullfoss where the water cascades down from the glacier to the canyon below.
Gullfoss literally means 'Golden' and this waterfall is certainly worthy of such a name. It is Iceland's most magnificent waterfall.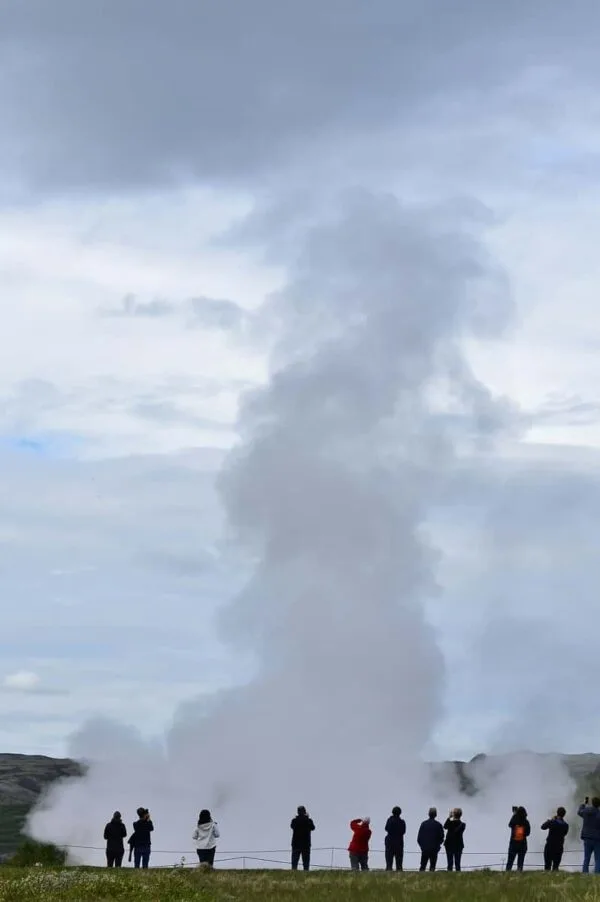 7. See Haukadalur Geysers
Iceland is full of beautiful natural wonders. One of the most popular Iceland attractions on the Golden Circle is Haukadalur.
It is a geothermal field on the Golden Circle that has more than 40 hot springs, mud pots, and fumaroles.
The most active geyser is Strokkur and it spews hot water every few minutes or so.
Not only will you be able to walk right up to it (there is a roped-off area), you will feel the spray!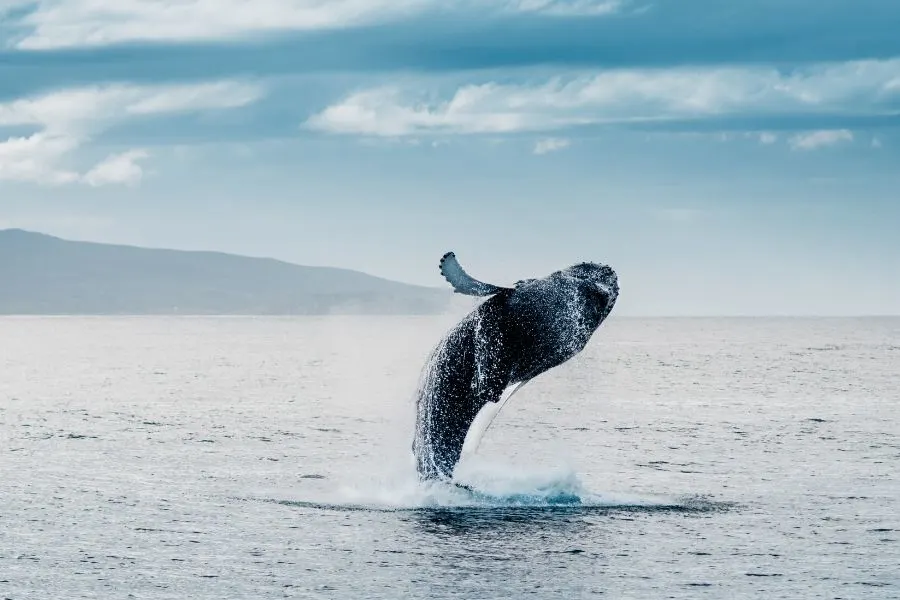 8. Go Whale Watching
One of the most requested excursions in Iceland is whale watching.
The best time of year to see whales around Iceland is from April to October. The best chance you will have of seeing whales is in the summer months when nearly 20 species of Cetacea migrate to the waters off Iceland.
If you want to see these beauties up close, you will want to book a tour with a company that specializes in Whale watching.
While no tour can ever guarantee that you will see whales, you will have a better chance during the warmer summer months.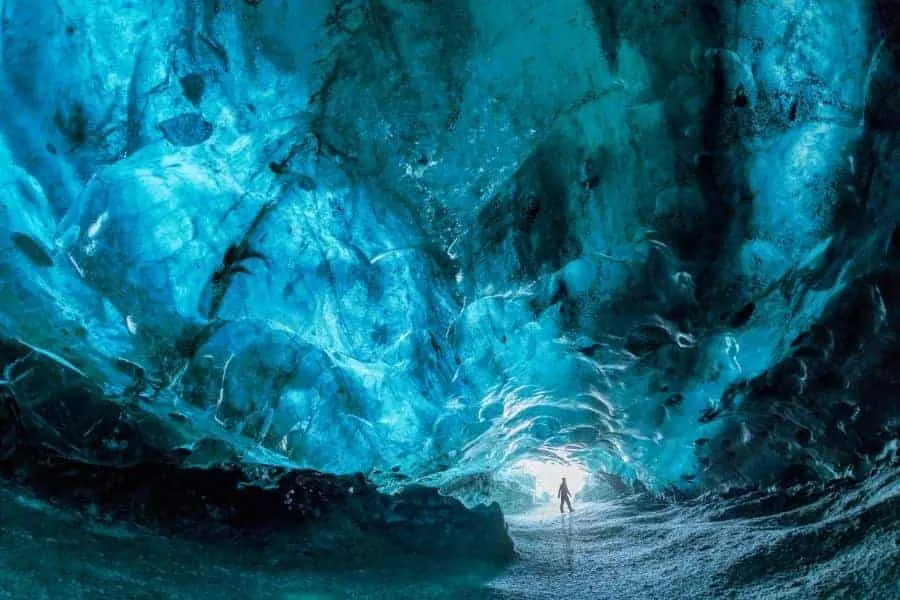 9. Walk in an Ice Cave
There is a reason why Iceland is often referred to as the Land of Fire & Ice.
Not only does Iceland sit atop a volcanic system, but it also has glaciers, which makes it the perfect spot for ice caves to form.
Ice Caves are formed from runoff on a glacier. The melting ice refreezes and creates a cavern within the glacier.
These Ice Caves are neat to see and people love to visit them because they are so beautiful.
Depending on the amount of sunlight that comes through the ice, these caves can appear in different shades of blue creating a prism effect of colors.
Visiting the ice caves in Iceland should not be done alone. You will need to go through a tour company.
You will find that there are many different companies offering ice cave tours and you should choose one that best fits your needs and offers transportation to and from where you are located.
One of the most popular ice cave tours is the Natural Crystal Blue Ice Cave Tour of Vatnajökull Glacier
On this tour, you will be taken by Jeep from Jökulsárlón to the base of Vatnajökull. The tour company will fit you with crampons (spiked shoes) and helmets and will walk you through the ice cave while explaining about the formation.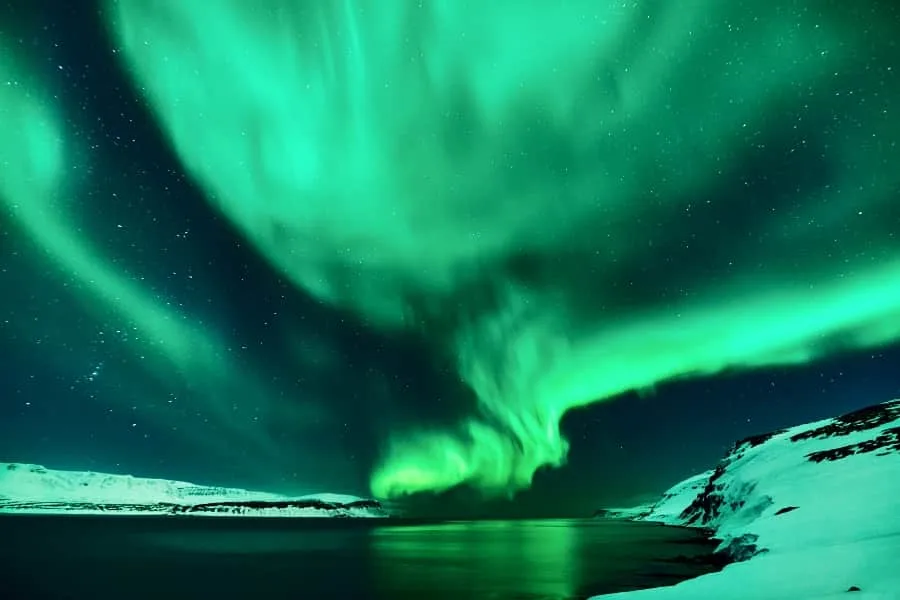 10. See the Northern Lights
One of the most popular things to do in Iceland is to see the Northern Lights (Aurora Borealis). You can see them just about anywhere, but the best places to spot them are where it is darkest or along the coastline.
The Northern Lights season is from late August to mid-April.
While you can do a Northern Lights Tour, you don't need to spend the money to see what you can for free.
When is the Best Time to Visit Iceland?
While Iceland is beautiful throughout the year, the summer is the best time to visit. There are so many things to do in Iceland outside and to be able to fully experience the outdoors, we think the months of June, July, and August are the best.
Iceland is located just south of the Arctic Circle. This means that in the summer months, Iceland gets 21-22 hours of sunlight a day!
That means that you can do a lot more than you would in the winter months when it is dark most of the day.
Where to Stay in Iceland
If you are looking for a great place to stay during your trip to Iceland, we have a few suggestions.
Affordable, sleeps up to 4 people and has free wifi!
Convenient location, free airport shuttle, breakfast and wifi.
A little farther out from the airport, but priced right for those that are already planning to rent a car.
Iceland is a wonderful country full of amazing and unique things to see & do. If you do get the chance to visit, we hope that you can experience some of the things on this list.