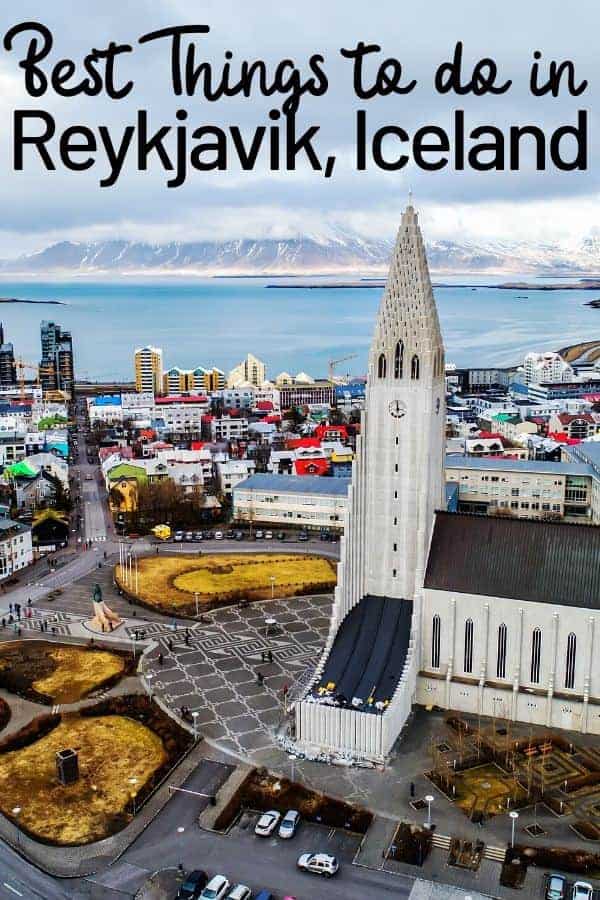 Iceland has become one of the world's most popular tourist destinations in recent years. Most people who visit Iceland fly into Reykjavik. While you will want to go out & explore places like the Golden Circle, you also should experience Reykjavik. Wondering what are the best things to do in Reykjavik, Iceland?
We have been to Iceland several times and have come up with what we believe is a must-do list for Reykjavik.
Best Things to do in Reykjavik, Iceland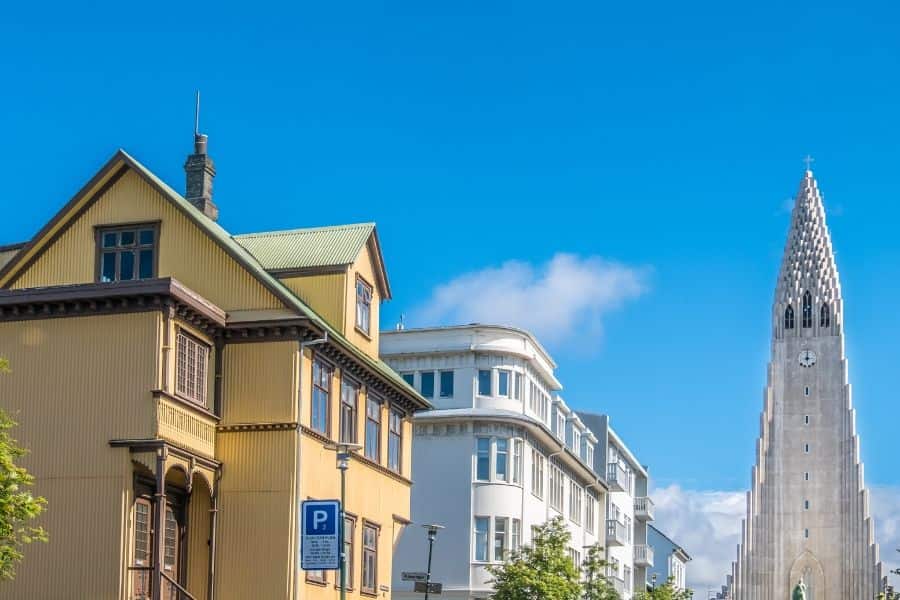 Take the FREE Reykjavik Walking Tour
One of the best ways to get familiar with Reykjavik, Iceland is by taking a FREE Walking Tour of downtown from a local who knows the area. They will walk you through town, show you sites, and give you a broad view of the history of Reykjavik along with some cultural information you might not otherwise get from visiting the city.
While this tour is free, they do take donations at the end.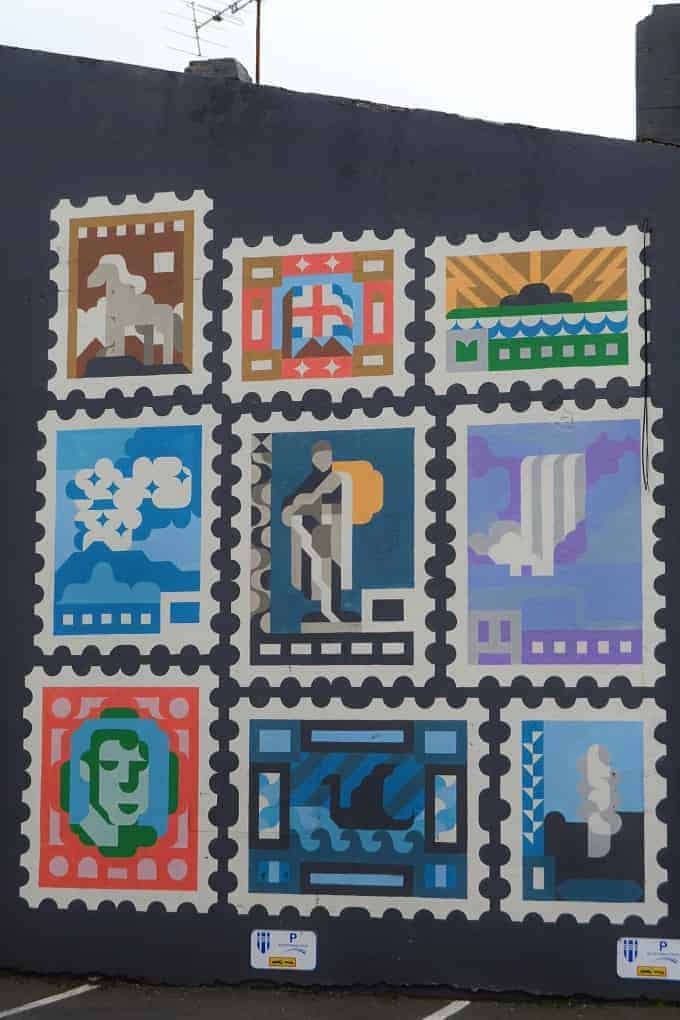 Admire Reykjavik Street Art & Sculptures
Reykjavik is a very artsy town. Laugavegur is a historic area that was once the path to the hot springs where many Icelanders would wash their clothes. It has now turned into a very urban area where you will find an eclectic mix of shops, cafes, bars and some of the best Icelandic street art.
Spend part of your time in Reykjavik exploring this part of the city, enjoying the hip, artsy vibe.
The above sculpture is the Monument to the Unknown Bureaucrat which can be found at the entrance to the City Hall.
Reykjavik is best explored by foot. Aside from street art, you will also find a unique array of sculptures throughout the city. Use this sculpture walking map so that you don't miss out on seeing all the artistic statues in town.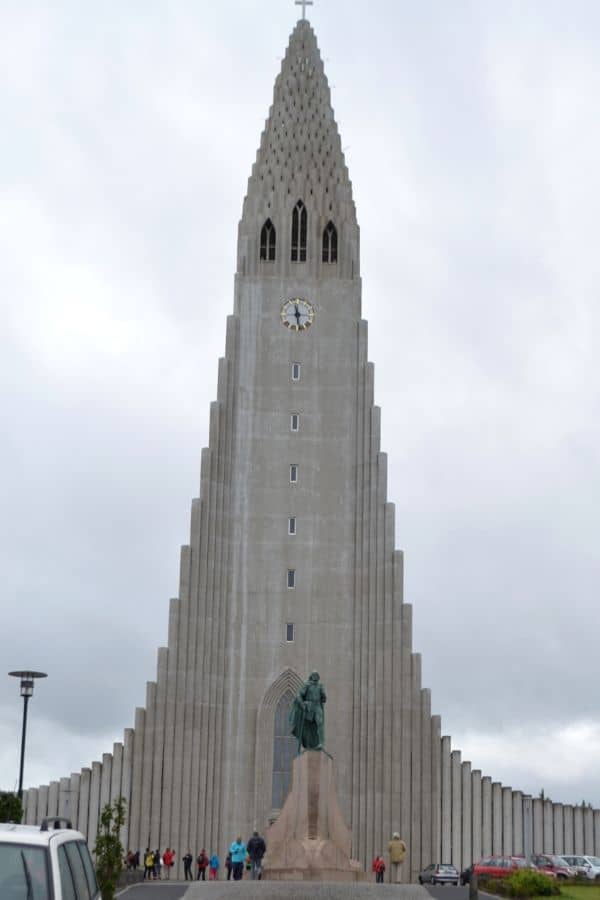 Visit Hallgrímskirkja
One of the most popular things to see in Reykjavík, Iceland is its main landmark, Hallgrímskirkja. This Lutheran church is the tallest structure in Reykjavik and is visible from nearly all points in the city.
It was designed by Guðjón Samúelsson and took nearly 40 years to build.
Jetting 240 feet into the sky, you can pay a small fee to walk to the top where you will get an unparalleled view of Reykjavik.
Adults pay an entrance fee of 900 ISK
Kids 7-14 pay 100 ISK
Check out Reykjavik Museums
While you might not think of museums as popular things to do in Reykjavik, this city really does have a few great museums you should check out.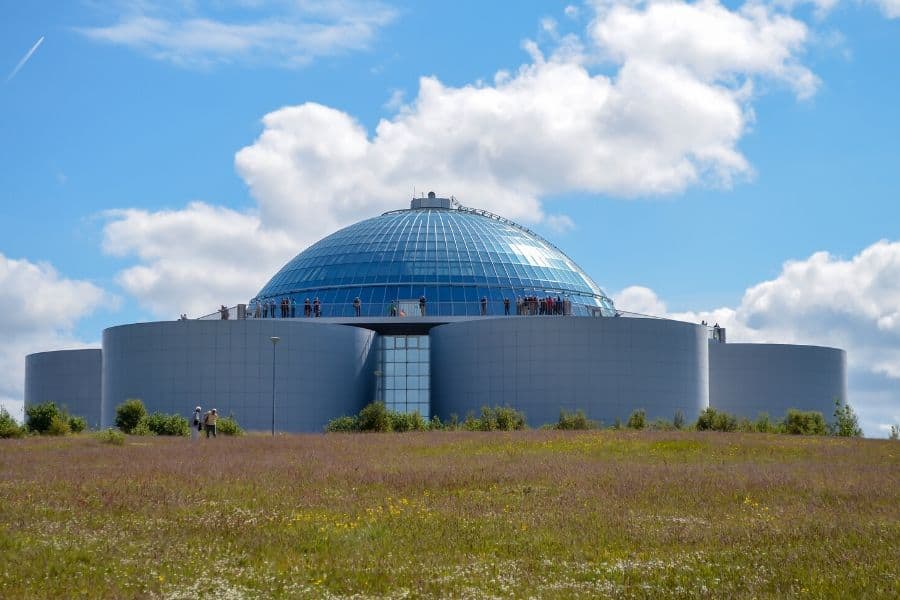 Perlan
This museum makes learning about the natural wonders of Iceland fun. You will be able to find information about Iceland's volcanoes, northern lights, glaciers, ocean life, seabirds, and much more.
You will get to see what an ice cave is like and find out why auroras occur.
This really is a must-see while visiting Reykjavik, Iceland!
Settlement Exhibition
This museum is actually built around the archaeological remains of a Viking longhouse that dates back to A.D. 930.
You will learn about the first inhabitants of the area including how Icelandic homes were constructed. If you are a fan of Viking history, you will really enjoy this interactive museum and will get to see Viking artifacts found throughout Reykjavik and on the island of Videy.
Arbaer Open Air Museum
One of my favorite things to do while traveling is visiting living museums. Living museums make you part of the experience and to me, it is one of the best ways to learn about other cultures.
When visiting Reykjavik, you really should make the time to visit Arbaer Open Air Museum.
Walk through an Icelandic village from the mid-18th century.
You will get to tour restored homes and see guides who are in traditional dress doing what they would have done during different periods of history.
There are guided tours in English throughout the day. Be prepared for a lot of walking!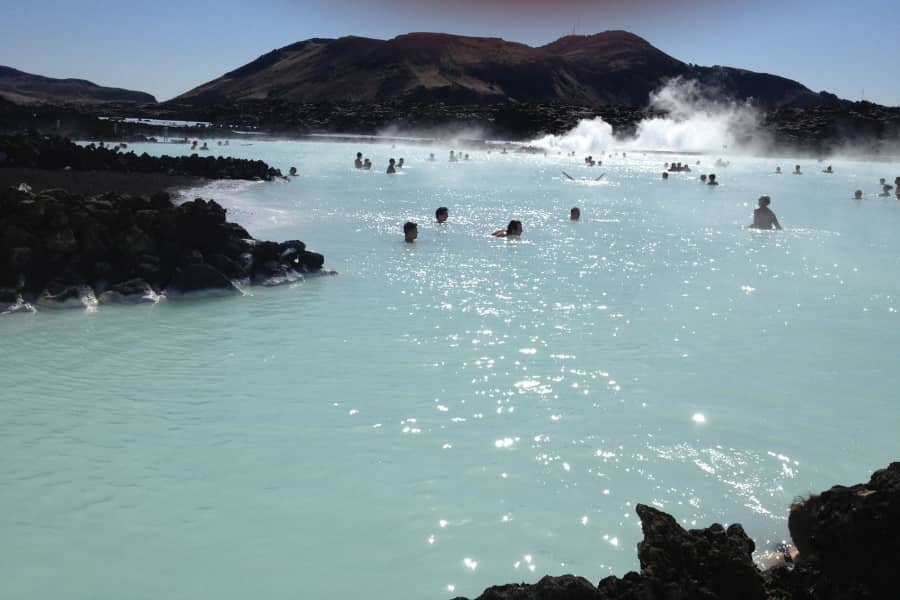 Visit a Geothermal Pool
While we love the Secret Lagoon in small village called Fludir, if you are looking for something in town, you will want to visit Reykjavík's largest swimming pool Laugardalslaug.
This geothermal pool features two 50-meters pools, 7 hot tubs, a steam bath, a cold tub, a large water slide, and more.
Visiting a geothermal pool is one of the best things to do in Reykjavik because it is a one-of-a-kind experience.
There are a few things you should be aware of before choosing to go to a geothermal pool in Iceland.
You will have to shower naked in Iceland before entering any of the geothermal pools. This rule is there for a reason.
Geothermal pools are natural areas with little to no chemicals. In order for them to remain free of bacteria, it is a must to shower in the nude before going in.
This is something that takes getting used to when you are from America, but please understand that this isn't something odd to locals.
They aren't going to be gawking at you and you don't need to feel awkward. It is something totally normalized by culture in Iceland, so you just need to get used to it.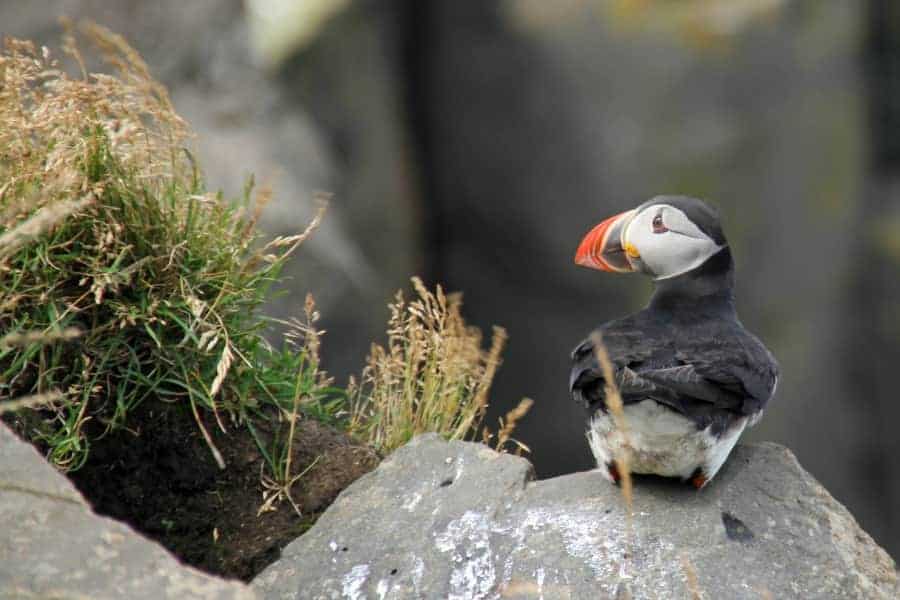 See the Puffins & Go Whale Watching
If you are coming to Iceland and hoping to see Puffins and Whales, you are in luck. This is the best place to do both.
While you are more likely to find a stuffed puffin than a real one in Reykjavik, you can take a tour and visit the small islands of Akurey and Lundey off the coast of Iceland and find tons of them!
Whale watching is also a popular thing to do off the coast of Reykjavik. There are nearly 12 different types of whales that migrate through the area, including killer whales and humpback whales.
Take a tour that allows you to see Puffins and Whales.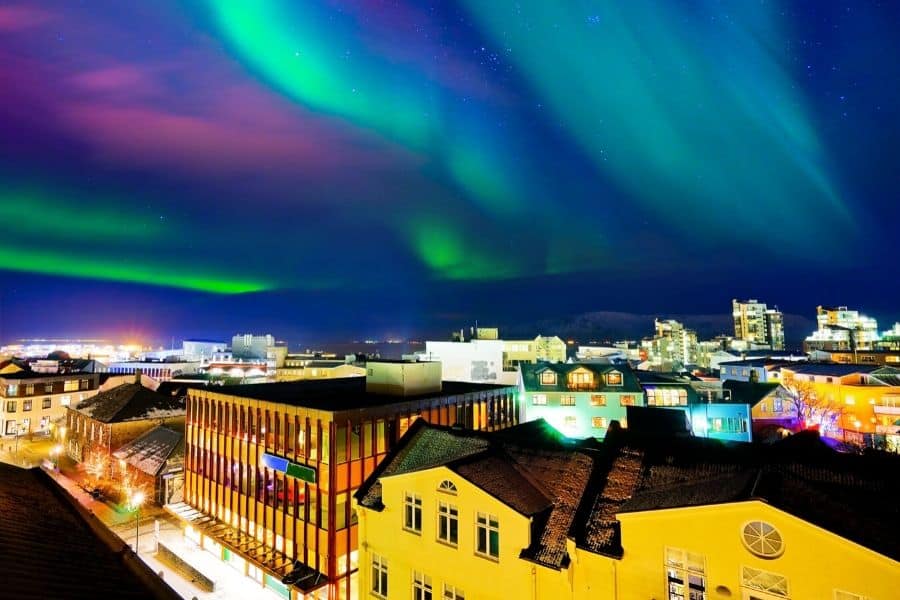 See the Northern Lights in Reykjavik
While the best places to spot the Northern Lights are outside of town where it is the darkest, you can see the Northern lights in Reykjavík. If you'd rather do a Northern Lights Tour, you can, but it isn't totally necessary.
If you would like to see the Northern Lights in Reykjavík, the best place to go is along the coast.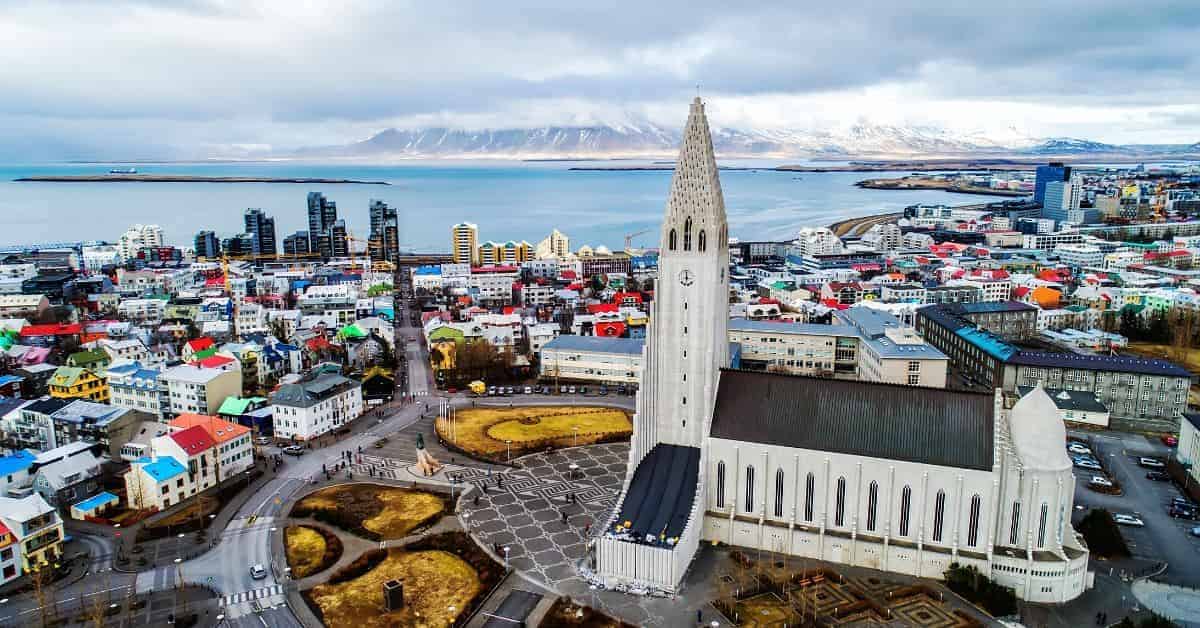 A trip to Iceland should be on everyone's bucket list. It is a place unlike any other, full of wonderful things to do. Even if you only have a day to spend in Reykjavik (like a layover), be sure to get out of the airport and some of what makes this city remarkable.
Have you been to Iceland? What do you think are the best things to do in Reykjavik?