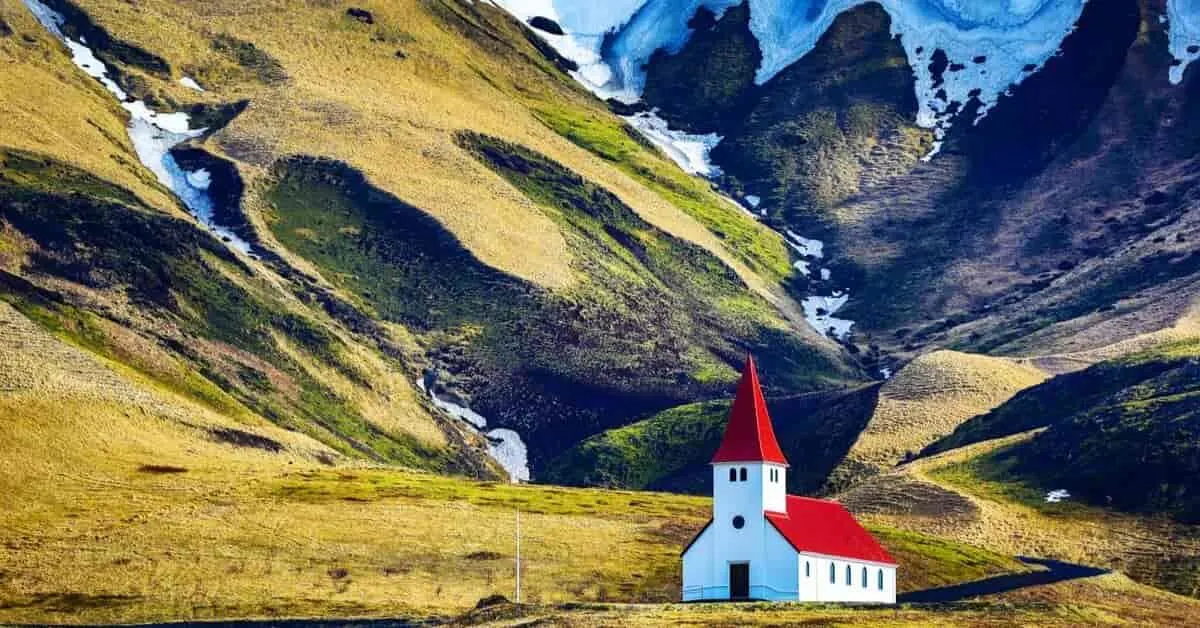 No matter when you get to travel to Iceland, you can be sure to see some amazing sites. While visiting Iceland in the spring (March-May) can be cold and wet, it also will give you a chance to see the Northern lights and snow, things that you might not catch if you were there any other time of the year!
Things to Know about Visiting Iceland in the Spring
Spring can be a wonderful time in Iceland because it is far less crowded and busy in the more touristy areas. You will find prices for excursions and hotels much lower due to this.
While the snowy seasons is waning, there will most likely still be snow on the ground in Iceland in March and April.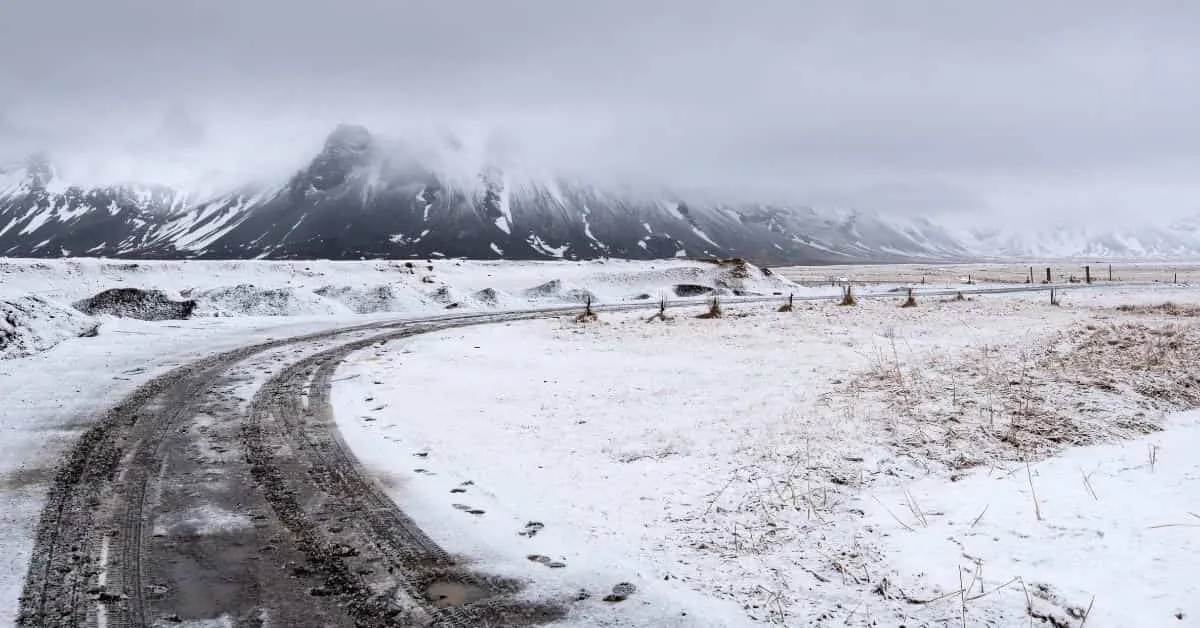 If you plan on driving in Iceland in those two months, you might encounter road closures due to the snow and ice.
Otherwise, late April and May are perfect for road trips in Iceland because nearly all the roads are clear.
A visit to Iceland in the Spring will allow you to do two popular tourist activities if you plan your trip carefully.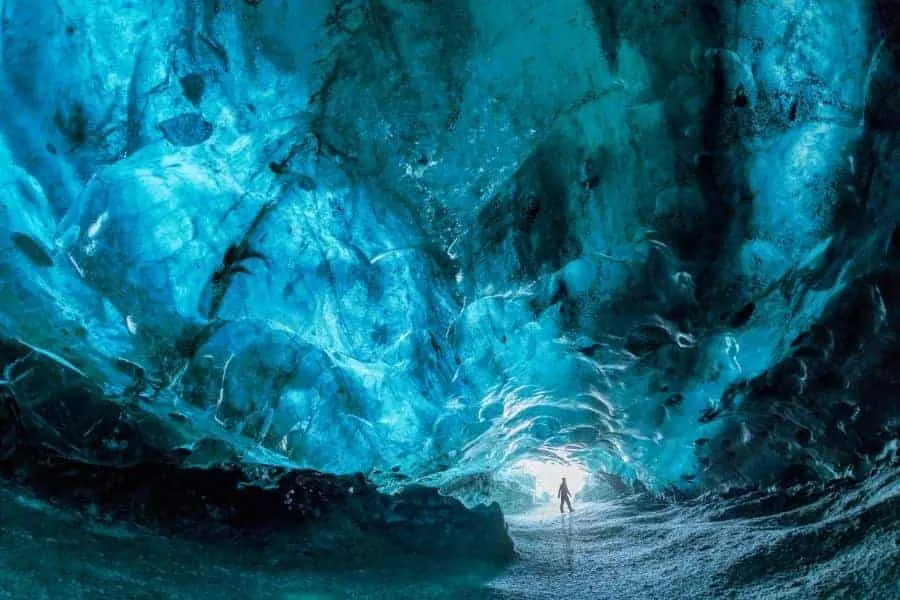 Ice Caves are open through early March. After that time, it is too warm for them to be safe to enter.
The Northern Lights season is from late August to mid-April, so if you travel before May, you might be able to do a Northern Lights Tour
No matter how you plan to spend your time in Iceland, make sure that you stay up to date on the weather & pack accordingly.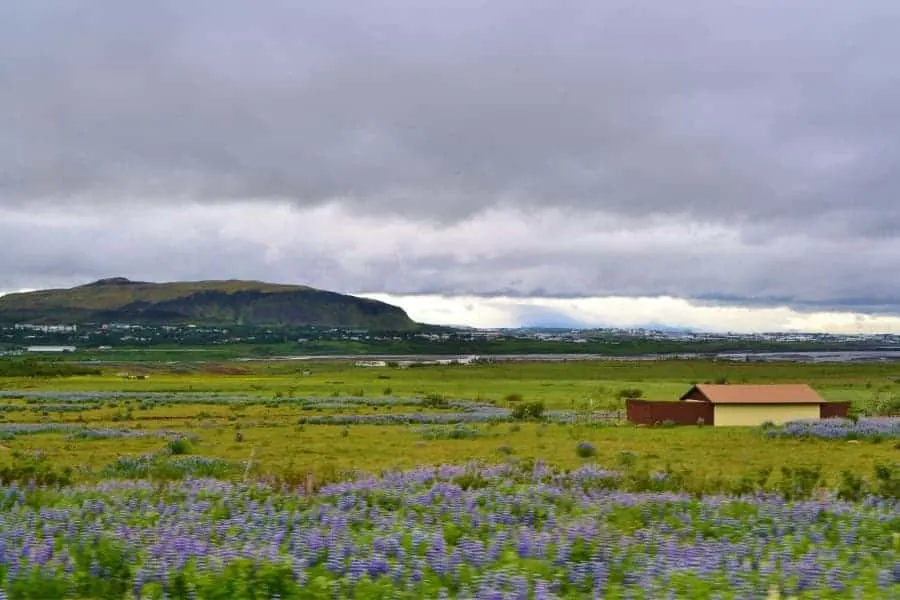 Weather in Iceland during Spring Months
The weather in spring is just plain cold in March, warms up a little in April and is lovely in May. While the temperatures rise at the months go by, so does the chances of rain.
| | |
| --- | --- |
| March | High 63°F/ 17°C |
| April | High 73°F/ 23°C |
| May | High 79°F/ 26°C |
Iceland is full of wonderful things to do outside, but don't forget that if it rains heavily and you don't want to get drenched, there are also plenty of places to explore inside!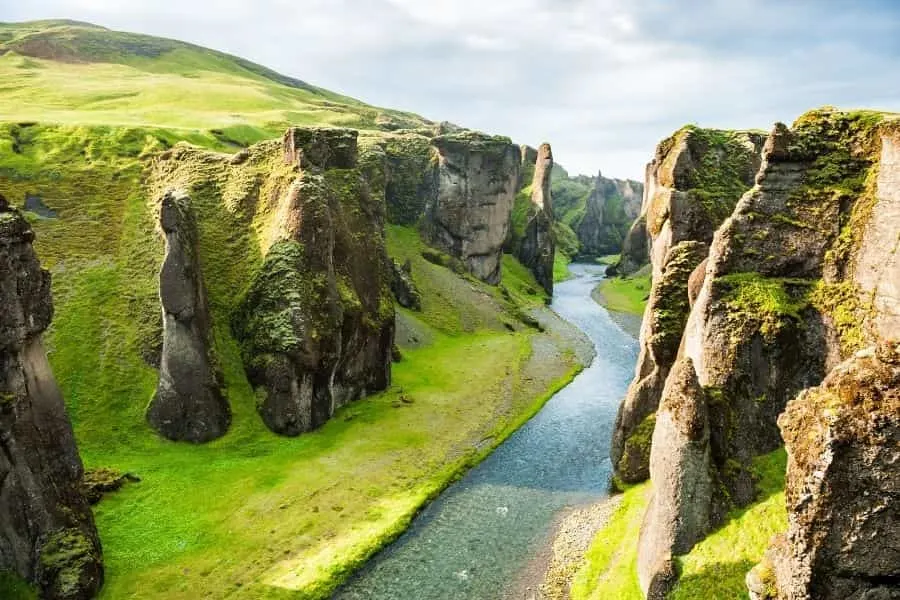 Amount of Daylight in the Spring Months
In the spring, you will find that there are about 11-20 hours of sunlight depending on what month you visit Iceland.
March has 11 hours of daylight with the sun rising around 8am
April increases to 14-15 hours of daylight as the sun begins rising at 6am.
May you will have the luxury of having a full 18-20 hours of daylight.
The later you visit Iceland in the spring, the longer amount of daylight you will have and that means you will have more time to explore all Iceland has to offer!
Most Popular Things to do in Iceland in the Spring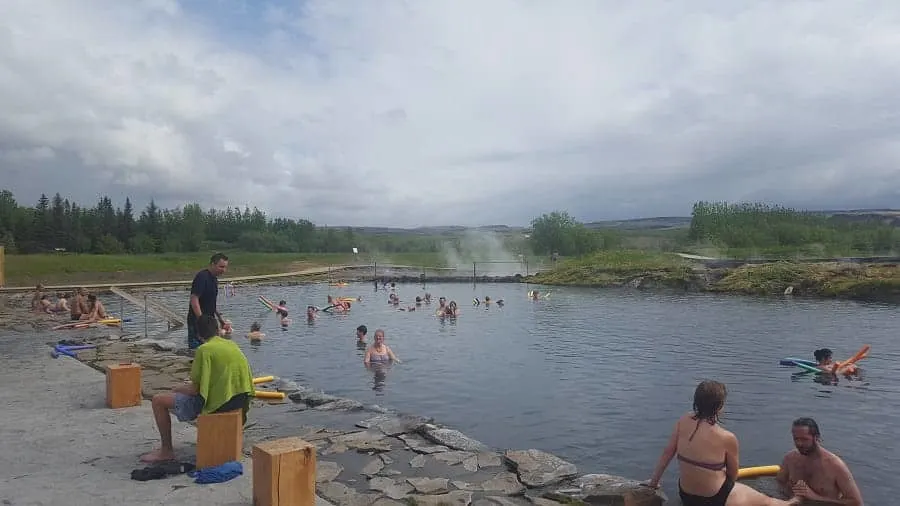 Swim in a Geothermal Pool
One of my favorite things to do in Iceland during the cool spring days is to visit one of the Geothermal pools.
Iceland sits on a volcanic geothermal field which means that you will get to enjoy naturally heated pools.
These pools are full of minerals that have natural healing properties and are the perfect way to relax when the weather is a little on the colder side.
While the Blue Lagoon is the most popular Geothermal pools in Iceland, we prefer going to smaller natural pools like The Secret Lagoon.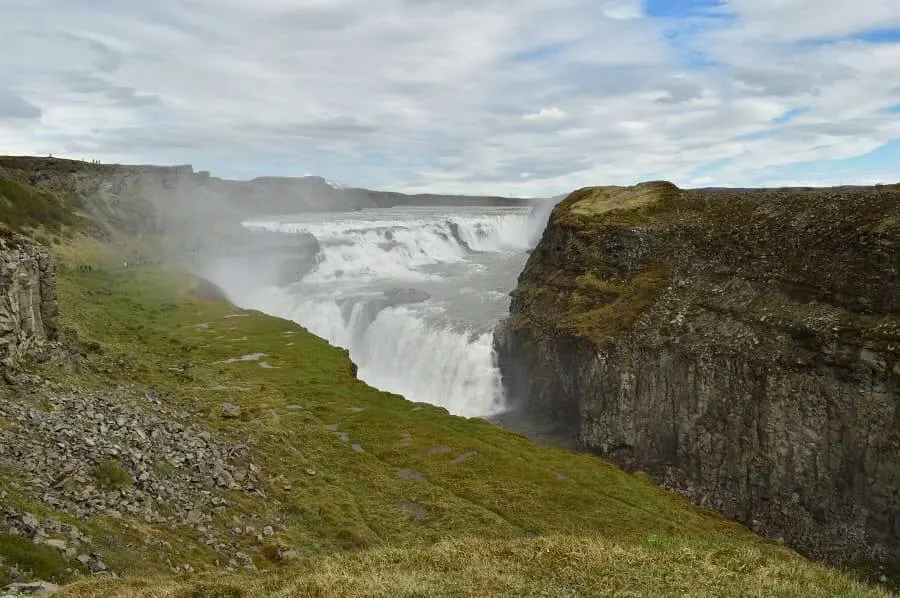 View Gullfoss Waterfall
There are many waterfalls in Iceland, but none of them compare to Gullfoss and its power is amplified during the spring months when the glacier ice is thawing.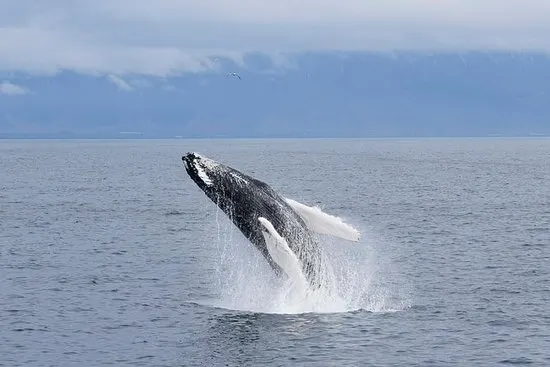 Go Whale Watching
One of the most popular things to do in Iceland is whale watching and if you are going to Iceland between April & October, your chances of seeing whales are great. .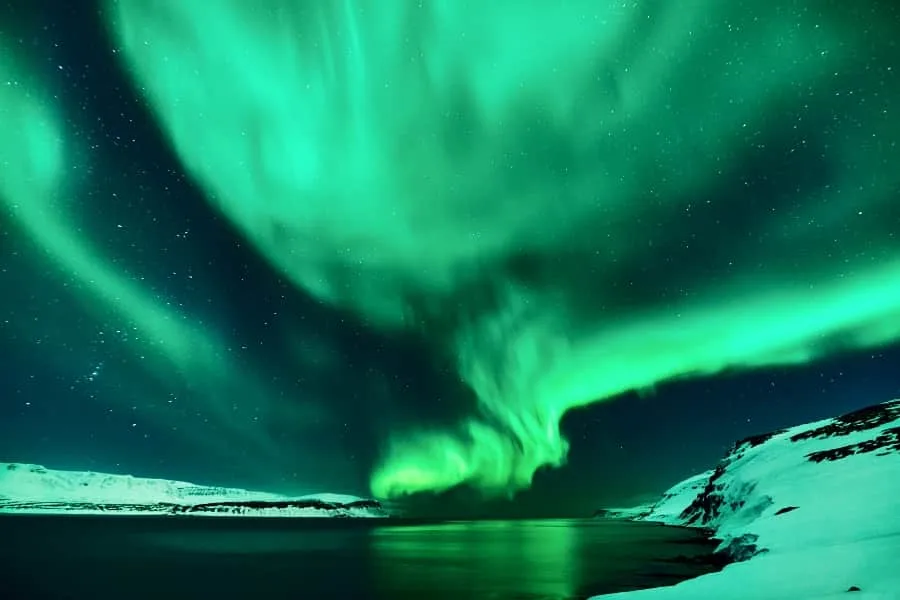 See the Northern Lights
When it comes to seeing the Northern Lights (Aurora Borealis) in Iceland, the earlier in the year you travel, the better. They are most visible from late August through mid-April.
You can see them just about anywhere, but the best places to spot them is where it is darkest or along the coastline.
Iceland Events in the Spring
Food and Fun Festival happens in February through Early March. You'll find that the restaurants in Reykjavik will have set menus featuring traditional Iceland ingredients.
Reykjavik Folk Festival is usually over a weekend in early March. You will get to see 12 musical performances at Kex Hostel.
Good Friday through Easter Monday is a religious holiday and many things will be closed.
Labor Day in Iceland is May 4th. It is a national holiday and most everything is closed.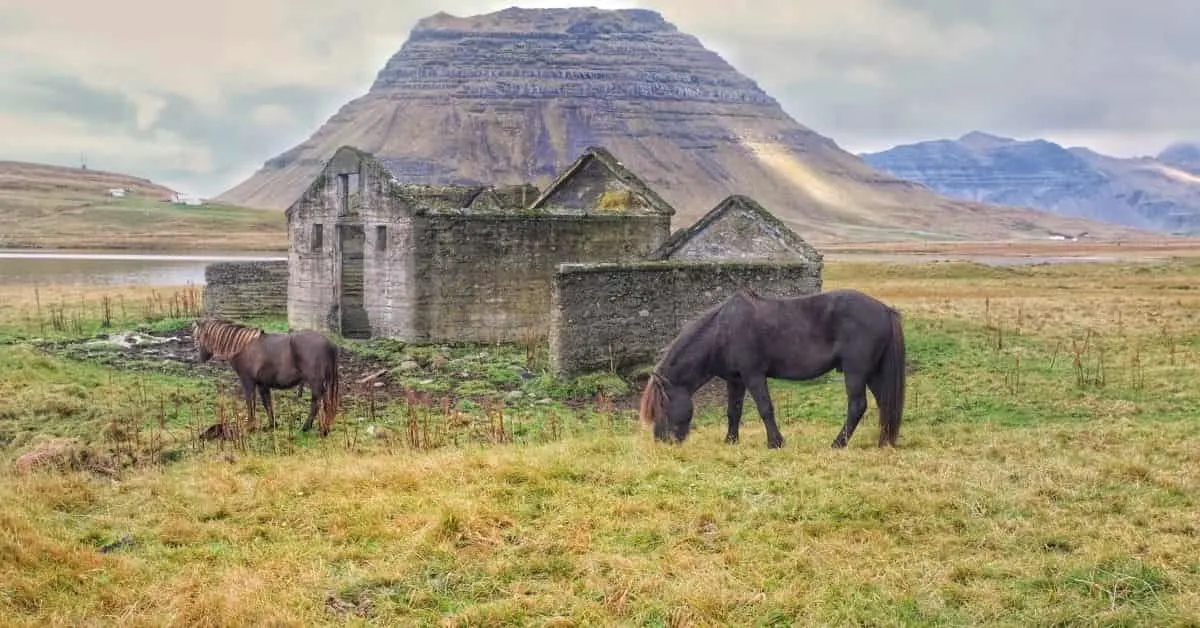 There really is no bad time to visit Iceland and if you are planning to visit during the spring months, I think you see that you will have plenty to keep you busy!