Are you planning a summer trip to Barcelona? Barcelona is a top destination for those traveling to Europe for many reasons. It is a popular port city for various cruise lines, it has the top tourist site in all of Spain (the Sagrada Familia) and beautiful beaches. While Barcelona in June and July can be busy due to the start of the summer tourism season, it also can be a great time to visit because the weather is near perfect.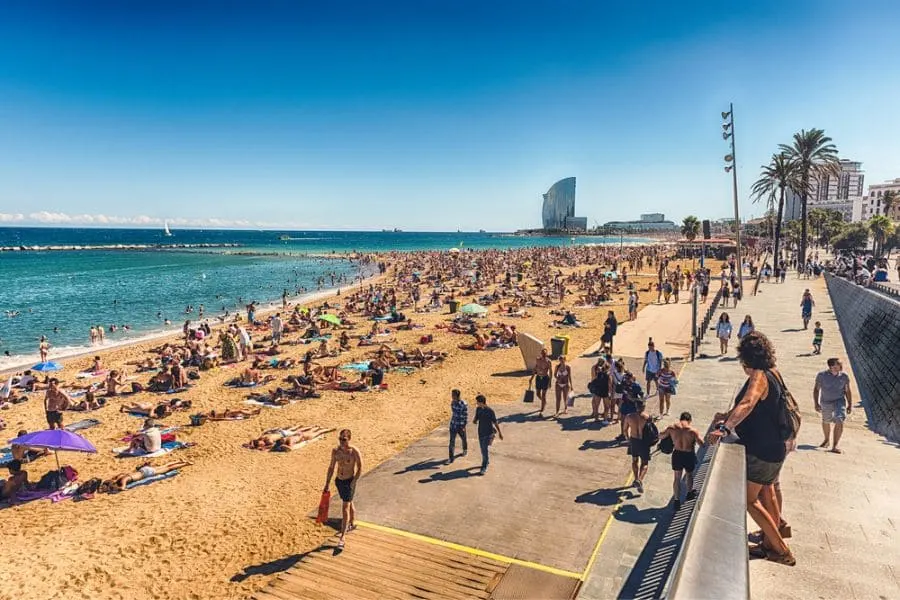 Guide to Visiting Barcelona in June & July
Weather for Barcelona in June
The average daytime temperature for Barcelona in June is around 24°C (75°F) and can be as warm as 26°C (79°F) with very little rain.
While it can be humid, it is generally more humid earlier in the month.
If you are hoping for some beach time, you will be glad to know that the Mediterranean sea has an average temperature of 21°C (70°F).
Weather for Barcelona in July
The weather in Barcelona in July is much warmer than in June.
The average daytime temperature for Barcelona in July is around 27°C (81°F) and can be as warm as 30°C (86°F).
You probably won't see any rain but it will be humid. If you planning to take a dip in the Mediterranean, it will be a perfect 24°C (75°F) in July.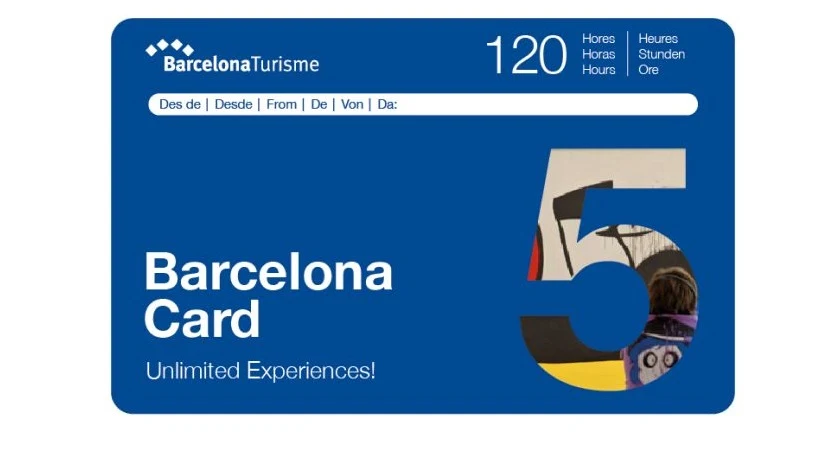 One of the best ways to affordably see all the top places to visit in Barcelona is to get the Barcelona Card.
This digital card will get you free admission into more than 20 of the best Barcelona attractions and discounted tickets to many others!
In addition, you get free use of public transportation (both Metro & city busses)! Your card also allows you to travel free on the train from Barcelona Airport Terminal 2 to Barcelona City. You will have to transfer between Terminal 1 and Terminal 2 to take advantage of this service.
Pricing is based on how many days you intend to use the pass. Choose between 3, 4, & 5 days.
In addition to the free admission, you also get a free city metro map with more than 80 special offers at select shops, restaurants, and outlets.
Things to do in Barcelona in June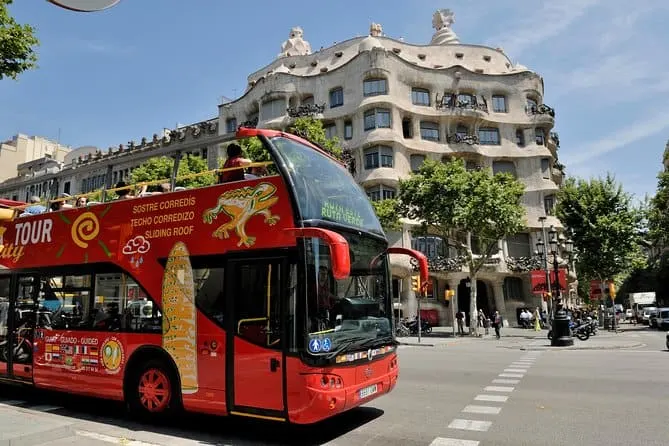 Hop on Hop off Bus Tour of Barcelona
Take advantage of the Hop on & Hop off bus tour in Barcelona. It will take you to all the most important landmarks in Catalonia.
The top is open-air, and since it is sunny in Barcelona in June & July, you will want to make sure that you wear a hat to shield your face from the sun.
Tickets for the Hop on Hop of Bus
The Hop on Hop off Bus is included in the Barcelona Pass, but if you didn't buy the pass, you can purchase a ticket for the Barcelona Hop on Hop off bus separately.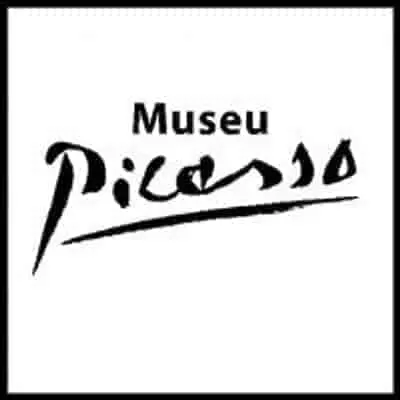 Picasso Museum
Pablo Picasso is one of the most influential artists of the 20th century and this museum showcases the best of his work from his adolescence, through his Cubist works, and from his Blue period of art.
Plan for about 2 hours in the museum because there is so much to see (it has the most extensive collection of Picasso's art with over 4,000 pieces).
Location: Carrer Montcada, 15-23, 08003 Barcelona, Spain
Admission: Museu Picasso is on the Barcelona Pass or you can purchase Picasso museum tickets online.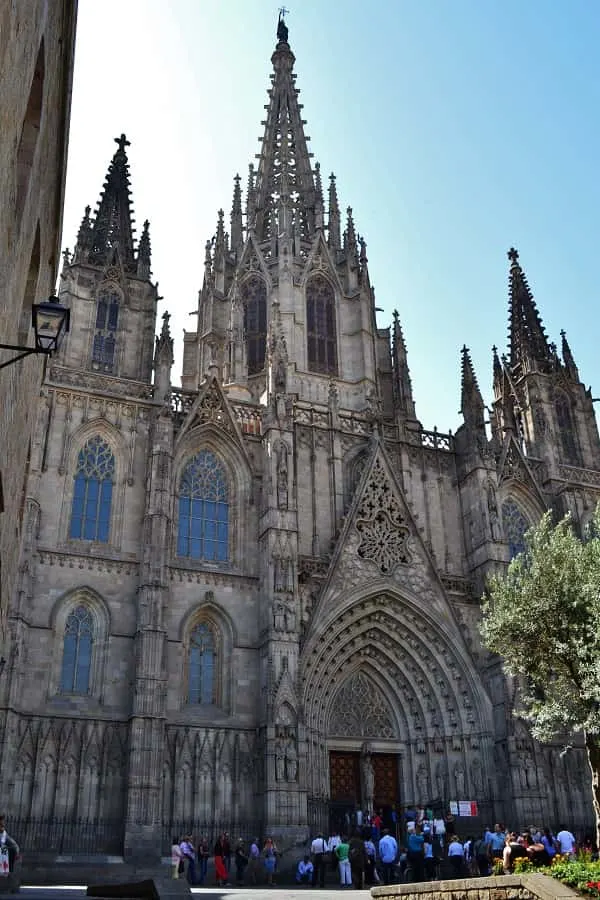 Cathedral of Barcelona
The Cathedral of Barcelona is a Gothic cathedral decorated with gargoyles, statues, pinnacles, and arches with tall bell towers.
The interior has a knave that is flanked by 28 chapels and beautiful stained glass windows.
Location: Pla Seu, 3 Barcelona
Hours: Available to tour 12:30 p.m. at 7:45 p.m. (Monday-Friday); 12:30 p.m. at 5:30 p.m. (Saturday); 2:00 p.m. at 5:30 p.m (Sunday)
Admission: Worship and prayer: Includes entry to the Cathedral floor and the cloister.
Visit to the choir: €3 per person
Visit to the roof: €3 per person
Tourist visit that allows you access to the Cathedral floor and cloister, roof, choir, Chapter Hall Museum, The Saint Christ of Lepanto's Chapel: Donation of €7 per person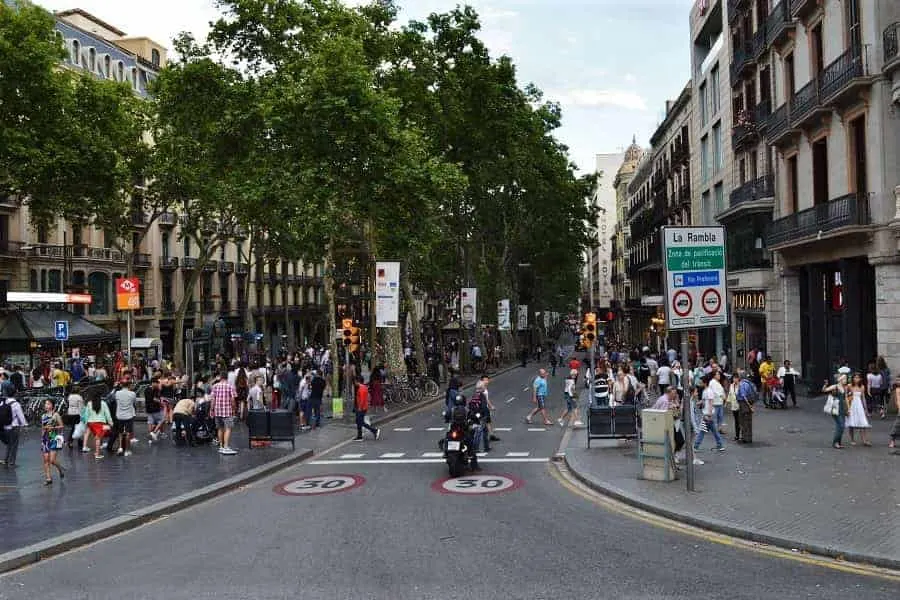 La Rambla
You can't visit Barcelona and not go to La Rambla. This pedestrian-friendly part of town is great no matter when you choose to visit, but nighttime has a life of its own.
You will find market-style shops, open-air dining, street performers, and lots and lots of people enjoying life.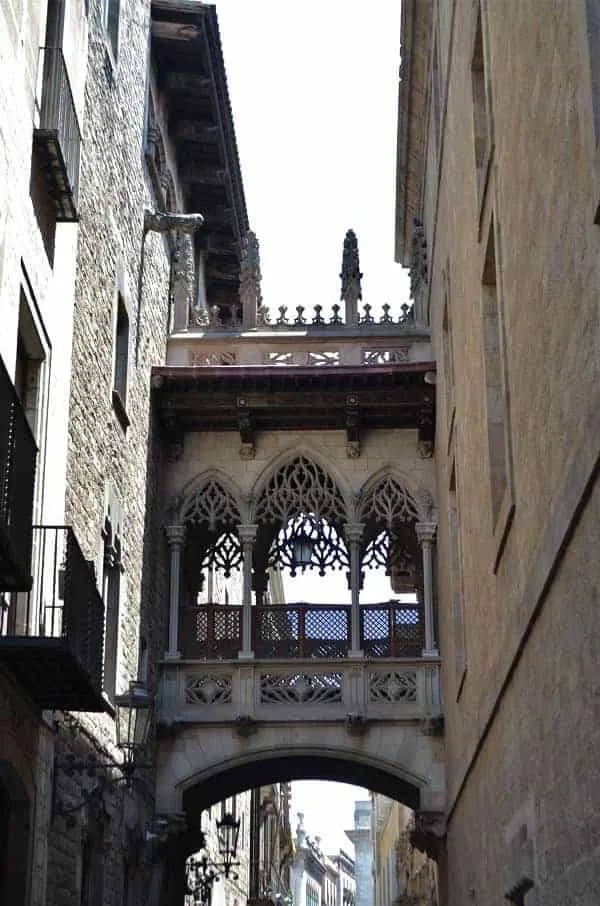 Gothic Quarter
The Gothic Quarter is a unique section of Barcelona with plenty of character.
You will find Gothic architecture, medieval cobblestone streets, and squares lined with quaint shops, cafes, bars, and Catalan restaurants.
This is the best place to really spend time among the locals enjoying live music and a glass of Barcelona's famous Sangria.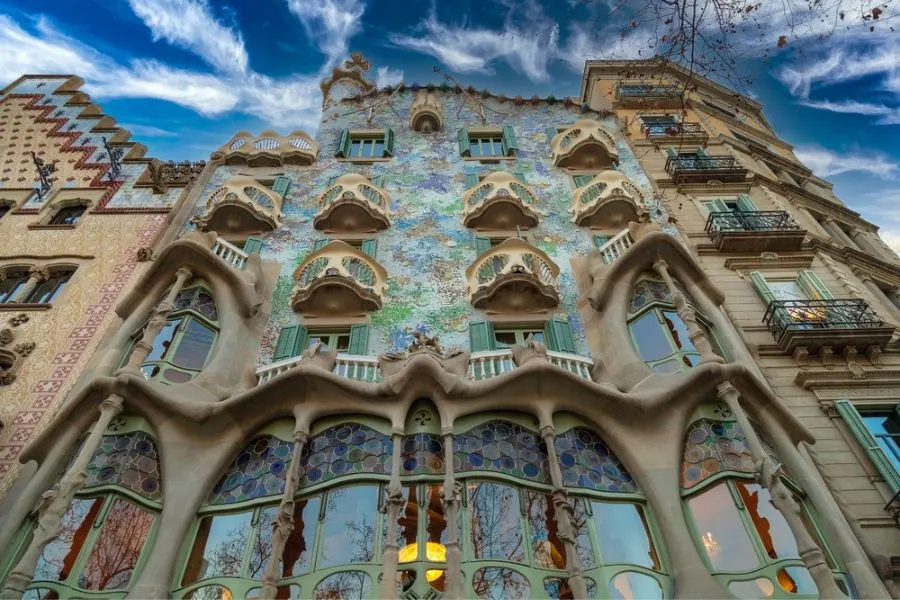 Casa Batlló & Block of Discord
You can't help but admire the whimsical set of buildings on what is called the Block of Discord.
They are The Casa Amatller (designed by Josep Puig), the Casa Lleó Morera (by Domènech I Montaner), and Casa Batlló (designed by Gaudí).
Casa Batlló is just one of many landmarks designed by Gaudi.
It was inspired by the Mediterranean Sea and some believe looks like a serpent. The tour of Casa Batlló will allow you to explore the living space and see the rooftop terrace.
Location: Passeig de Gràcia, 43, 08007 Barcelona, Spain
Tickets: Online: €25 adults & €22 children 7-18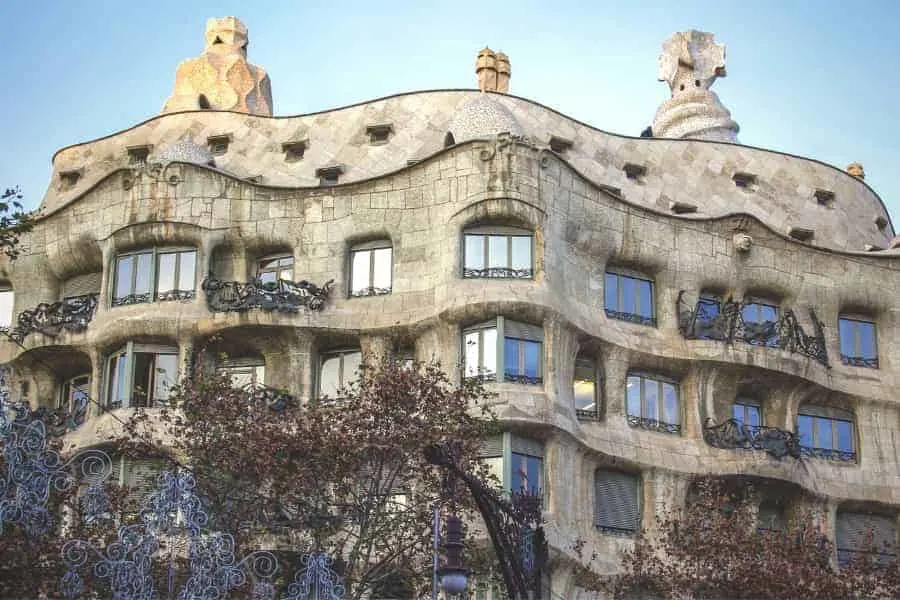 La Pedrera
La Pedrera (also known as Casa Milà) is the last private residence designed by Gaudí.
It was built between 1906 and 1912 and combines waves of stone with twisting iron.
There are nine levels with three areas open to tour: the attic with his trademark arches; the rooftop of chimneys towering from the floor; and an apartment.
Location: Passeig de Gràcia, 92, 08008 Barcelona
Tickets: Online: €22 / Ticket office: €25 & comes with free audio guide.
Sagrada Familia
The most iconic landmark in Barcelona is Sagrada Familia, designed by Antoni Gaudí. The Gothic Basilica is certainly one of the most beautiful cathedrals in all of the world.
A work in progress since 1882, The Sagrada Familia is set to be completed in 2026.
When finished, it will have 18 towers. 12 represent the apostles, four represent the evangelists, one for the Virgin Mary, and the pinnacle tower in the center of them all will be for Jesus.
Location: Carrer de Mallorca, 401, 08013 Barcelona, Spain
Hours:
November through February from 9 am to 6 pm
March from 9 am to 7 pm
April through September from 9 am to 8 pm
October from 9 am to 7 pm.
December 25-26 and January 1 & 6th from 9 am to 2 pm.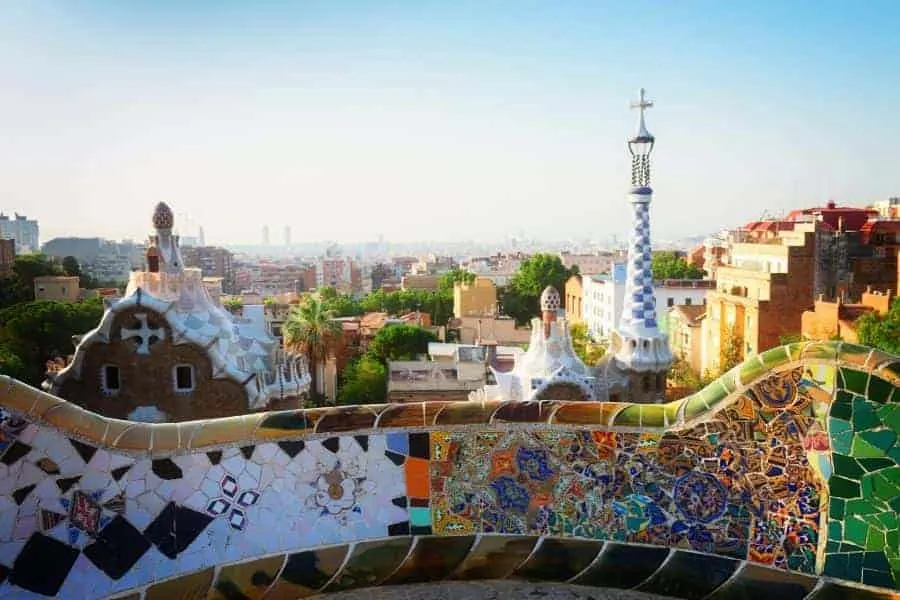 Parc Güell
This picturesque public park is designed with typical Gaudí whimsy.
You will find this park filled with colorful mosaic tiles, stone structures and a curvy natural landscape.
Enjoy walking the trails and taking in the views of the city and sea below and see why this was declared a UNESCO World Heritage Site.
Admission: You will definitely want to get your tickets to Parc Güell in advance!
Your park ticket will cover transport on the direct shuttle bus from Alfons X to Park Güell. You will want to take advantage of this as the Park is on a hill.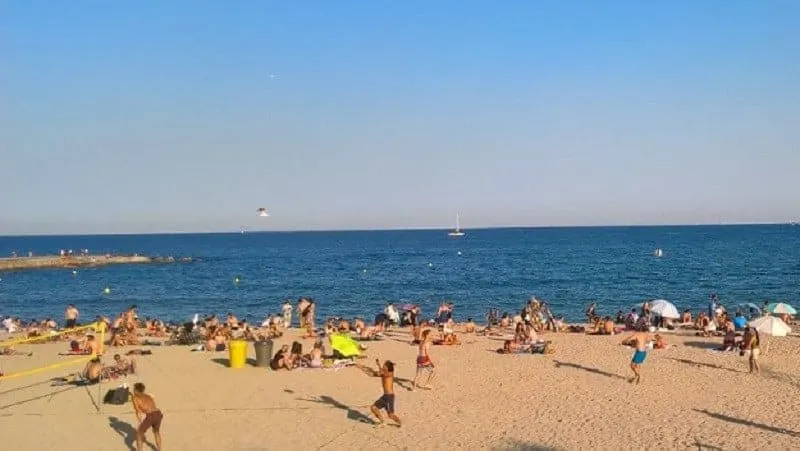 Bogatell Beach
The most popular beach in Barcelona is Bogatell.
As with most of this part of the Mediterranean coast, the beach at Bogatell was completely renovated during the preparations for the 1992 Olympics.
It is the perfect place to catch some rays and enjoy bathing in the sea.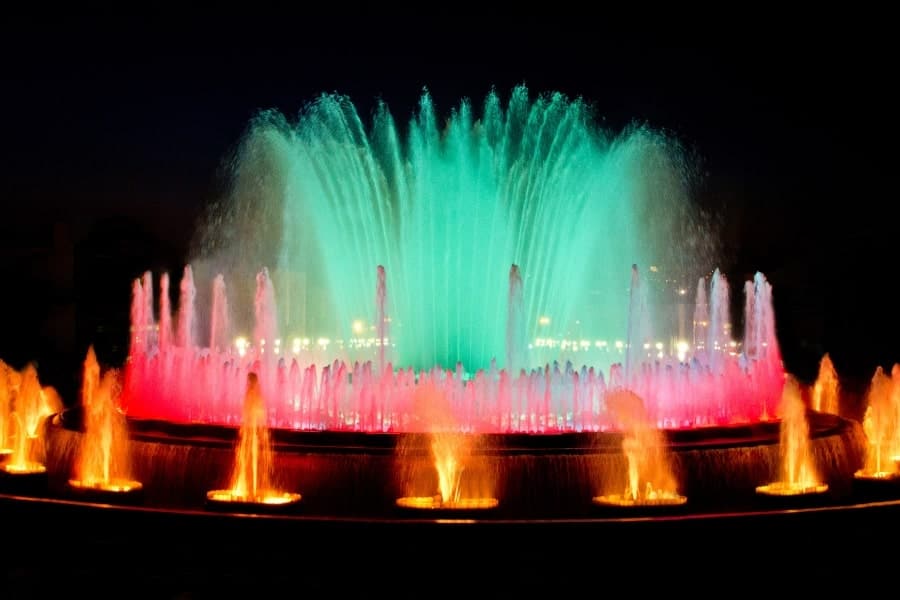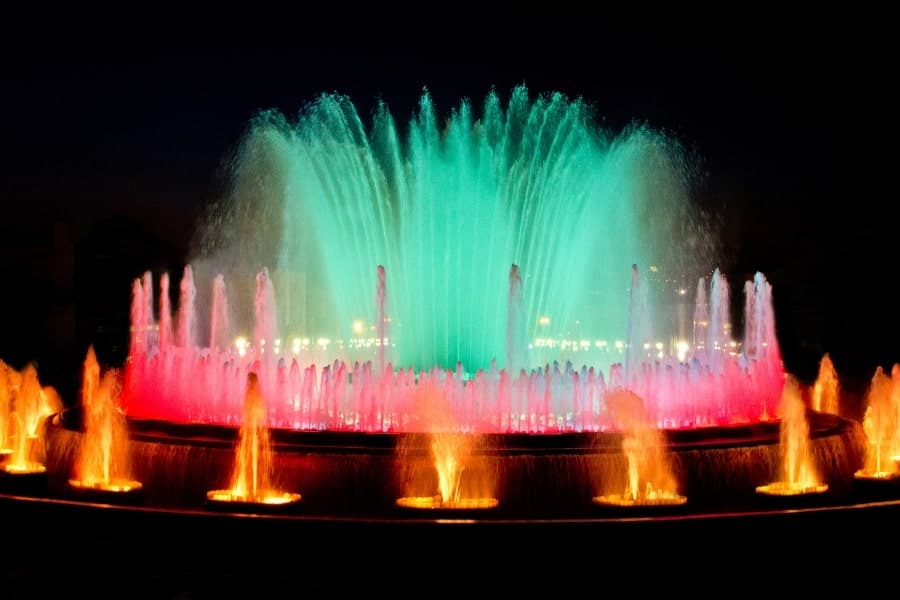 The Magic Fountain of Montjuïc
There is nothing quite like spending the end of a beautiful summer day in Barcelona and seeing the Magic Fountain! The Light & Water show is set to music and lasts about 20 minutes.
Magic Fountain Schedule (no shows Monday to Wednesday):
Jan 7-Feb: closed for maintenance.
March: from 8-9pm
April-May: from 9-10pm
Jun-Sept: from 9:30-10:30
Oct: from 9:00-10:00
Nov-Jan 6 2019: from 8:00-9:00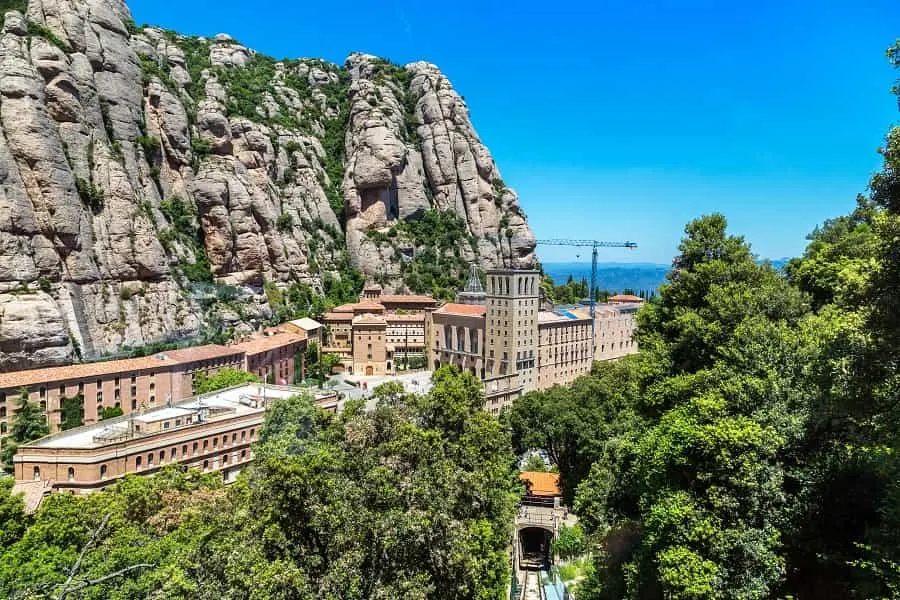 Montserrat
Take a guided tour and learn about the fascinating history of Montserrat and why it draws thousands of pilgrims a month!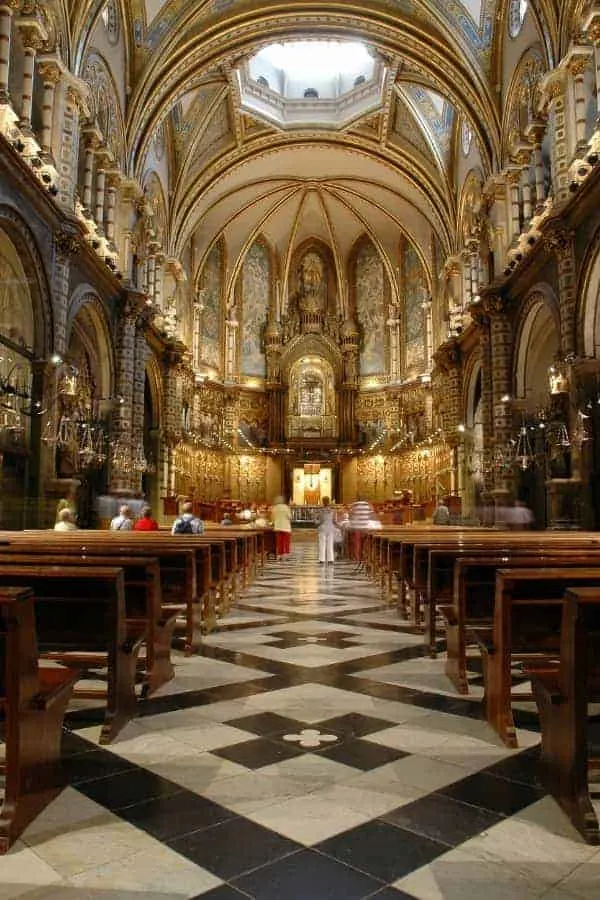 Don't miss seeing the Black Virgin Mary statue inside the Basilica.
After your tour, walk the nature paths and take in the views of the beautiful natural landscapes and rock formations.
How to get to Montserrat
To get to Montserrat from Barcelona, you will need to take a train at Plaça España train station. Take the R5 train to Aeri de Montserrat and then take the cable car up to Montserrat Monastery.
You can purchase a combination ticket at the train station.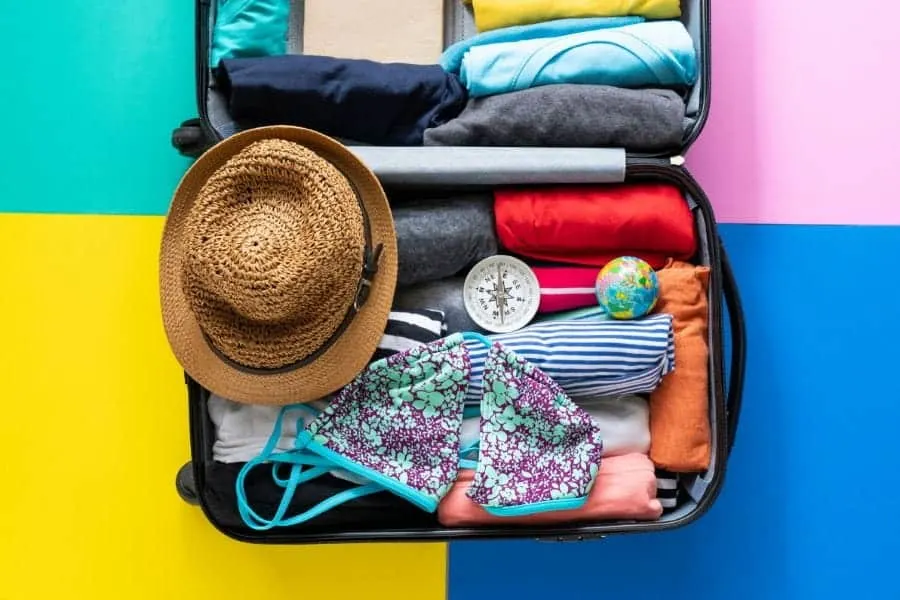 What to Pack for Barcelona in June & July
Rick Steves Pocket Guide for Barcelona
When you are traveling to Barcelona without a tour guide, you should consider purchasing a pocket guide.
Our favorite is Rick Steves. This pocket guide is small enough to take with you and has great walking tours with maps.
Sun Tan Lotion, Sunglasses and Hat
Even if the sun doesn't feel that hot to you, the sun is out nearly 15 hours a day in the summer months. That is a lot of exposure time, so we suggest you do your part to protect the parts of your body that are exposed to the sun's rays including your eyes.
Summer Clothing & Comfortable Shoes
Look for clothing that is breathable and lightweight. Women typically wear sundresses, skirts, and lightweight pants.
Men can get away with t-shirts but also should bring a few polos, khakis, and even capris. European men love capri pants and if you are visiting in the summer, you will understand why.
You don't see many Catalans (male or female) wearing shorts, but plenty of tourists will be wearing them, so you will be fine.
Mornings and evenings can be brisk, so I would suggest you bring a lightweight jacket or cardigan.
Barcelona in June & July is optimal beach weather! Don't forget to bring your bathing suit and a towel. While most hotels will have towels available, I would suggest you pack a small beach towel just in case.
You are going to be doing A LOT of walking. Make sure that you are wearing shoes that are comfortable. Many of the streets around La Rambla are cobblestone and not friendly to heels.
Choose shoes that have grip so that they are able to handle the different types of ground you will be covering on foot.
Power Adapter
Be sure you pack several European adapters. There are very few outlets to begin with, but if you need to charge your electronics or use a straightener, you will want to make sure you have the tools to use them.
Crossbody Bag
Avoid shoulder bags. They will not only weigh you down, but they are also easy for a thief to grab. Instead, wear a crossbody bag that has RFID built-in.
Have you been to Barcelona? What were some of your favorite things to do in the city?
Itineraries for Visiting Barcelona in June